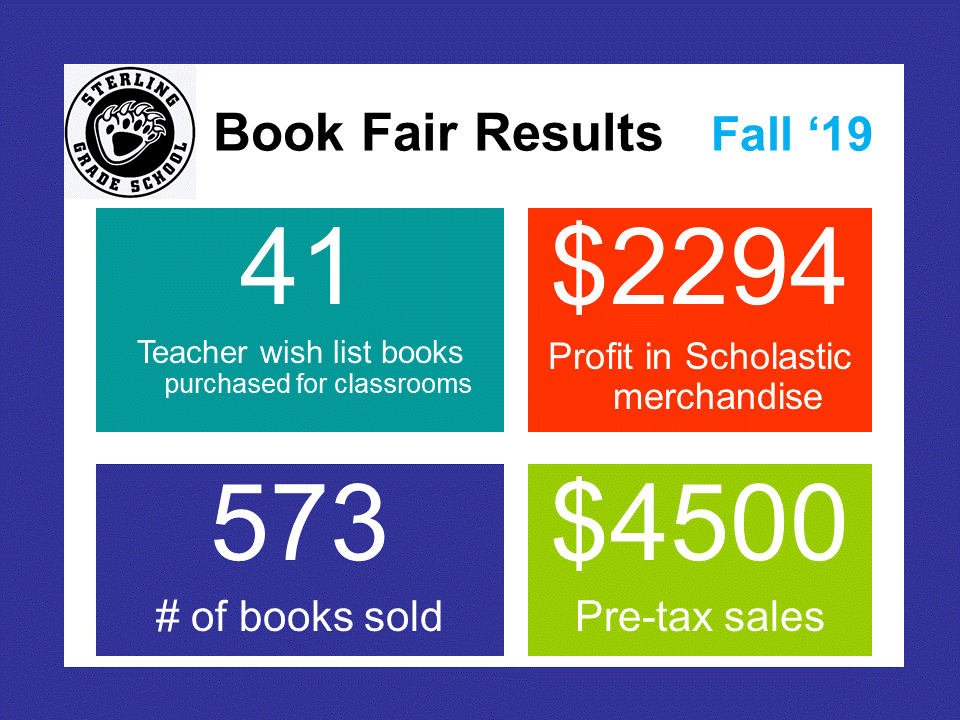 Book Fair Results
Amy Brownlee
Friday, October 04, 2019
Our Scholastic Book Fair, held at SGS September 23-26, was a big success! Here are some highlights:
Total number of books sold this Fair: 573+
Our pre-tax sales volume was over $4500 earning a net profit of $2294! We chose to spend $680 of that amount on books from the Book Fair cases. The remaining $1614 will be used to purchase new books and instructional materials from Scholastic's online catalog.
Parents, students and community members purchased 41 books through the "Teacher's Wish List" program. Teachers are most appreciative for these additions to their classroom libraries.
Our loose change "All for Books" donations totaled $133.50 and was used to purchase approximately 16 new books for the library. Additionally, Scholastic Book Fairs matches monetary donations with a donation of up to one million books to two non-profit organizations--Kids in Need Foundation and Kids in Distressed Situations, Inc.
Our Spring Book Fair will coincide with SGS Parent/Teacher Conferences April
20-23, 2020.

Your book fair purchases put books directly into the hands of our students. Thank you for supporting literacy!
Amy Brownlee, District Librarian
Michelle Miller, Book Fair Chairperson