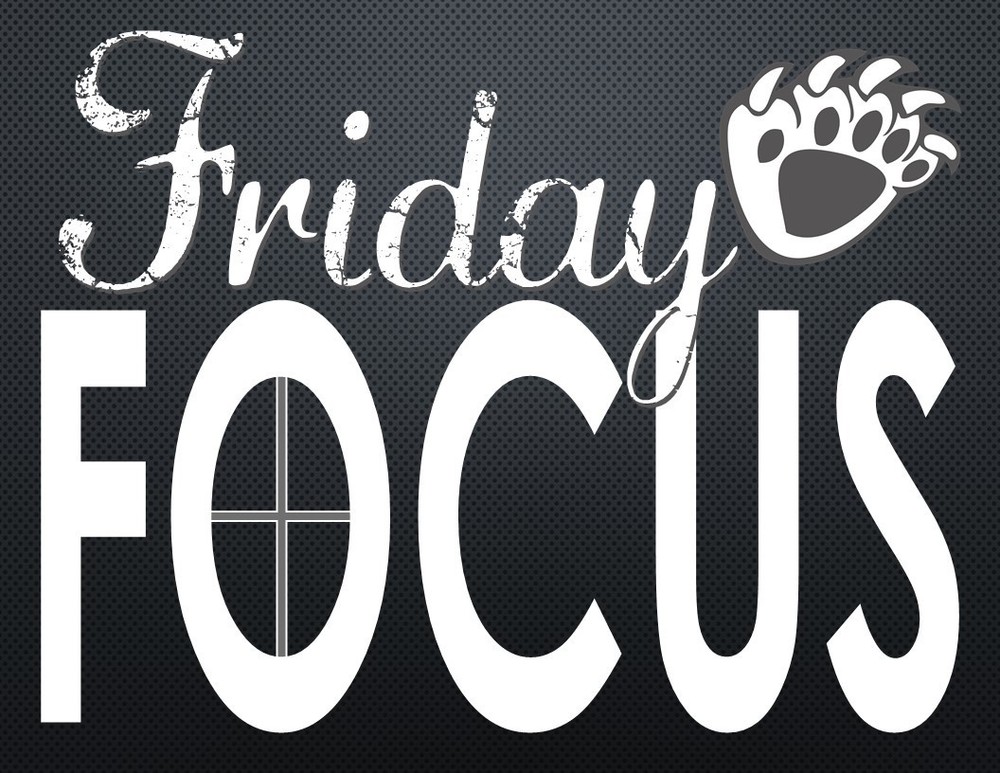 Friday Focus, Oct 25
Phil Bressler
Friday, October 25, 2019
Hey, it's the final Friday of October, which typically means three things: Halloween is close, it's getting colder, and, the best of all, it's World Series time. I don't really care who wins, I just want seven games.
Best Things I Saw This Past Week
Last Friday evening, SJSHS Student Body President Alaina Madden presented the 2019 KSHSAA Award of Excellence for Exemplary Display of Sportsmanship, Ethics, & Integrity to Amy Derr. Amy is a consistent face at all JH and HS activities and has served as a volunteer as needed. Thanks, Amy! We appreciate your support of all things Black & White!
On Wednesday morning, Andy Addis was on hand to visit with our junior high and then our high school students with the CORE message. Be sure to ask your favorite SJSHS student about the meaning of CORE. A great message about how to be a part and include others in a positive manner to strengthen any organization to which one belongs.

Yesterday, Mock Interviews brought nearly 50 community members in to conduct interviews with our juniors and seniors. Each senior interviewed three times and attended two sessions about job interviewing tips and searching for jobs. A huge shoutout to Tina Wohler for organizing this tremendous opportunity for our students.
Last night was the NHS Induction Ceremony at Sterling College. The keynote speaker was the 2019 Black Bear Award Winner, Mrs. Liz Willis. Liz is a 2005 Alum of Sterling High School and, in addition to speaking at the ceremony, also gave her day to share with HS, JH, and Grade School classes. LIz lost a leg, and nearly her life, during her first pregnancy due to complications from her then unknown Crohn's Disease. Since that time, Liz has become a Paralympian, representing the United States in the 2016 Paralympic Games in Rio De Janeiro, competing in the 100, 200, and 400 meter dashes, finishing sixth in the latter. Her story is one of inspiration and she has established a foundation to help other amputees afford prosthetics.
Tennis
Last weekend, our Black Bear Tennis team traveled to Prairie Village to compete in the 1-2-3A State Tournament, finished fourth as a team.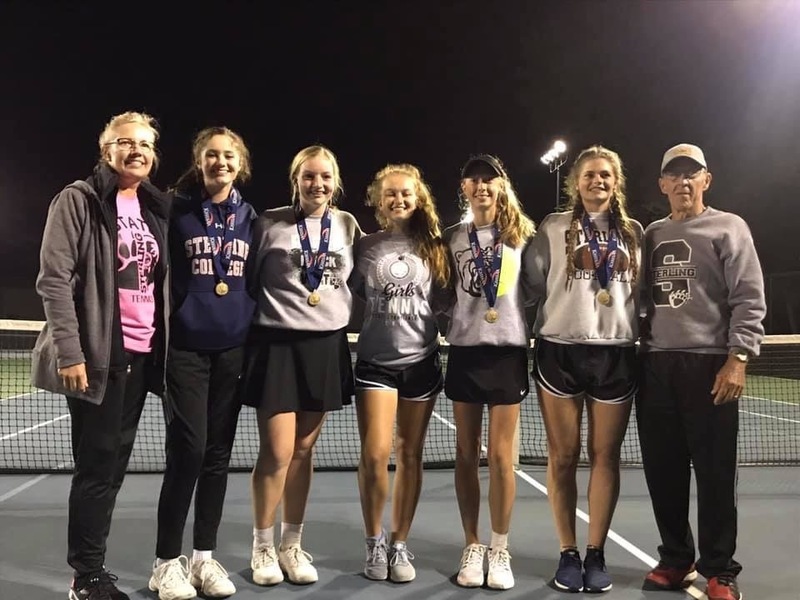 Kinzie Comley (Sr) & Aubrey Anderson (Jr) captured the third place medal, while Natalie Schweizer (Jr) & Riley Richter (So) finished 8th. Freshman Karissa Wilson qualified in singles, but did not place. A great season. Congratulations Coach Thompson, Coach Proffitt, and team!
Regional XC
Tomorrow, our Cross Country team will compete in the 2A Regional meet at Prairie Hills Middle School, just east of 61 Hwy and north off of 30th Street in Hutchinson. The girls race will begin at 11:20 and the boys will run at Noon.
Sub-State Volleyball
Saturday, beginning at 2:00, SJSHS will host a 2A Sub-State Volleyball tournament, with the winner qualifying for next weekend's State Tournament in Dodge City. The Black Bears enter the tournament with a 24-12 record and the #5 Seed. They will open the bracket against Moundridge in the Ora Shields in the second match of the day, which starts 20 minutes after the 2:00 match. If you are able, come out and support our young ladies and help them enjoy a little home court advantage!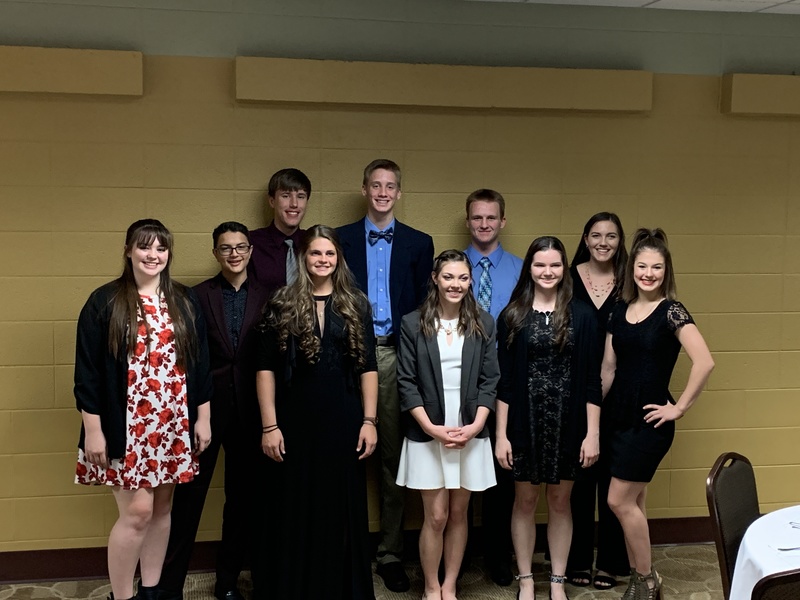 NHS Induction
Last night, six new members were inducted into the Sterling HIgh School Chapter of the National Honor Society. New members are Hannah Bennett, Madelyn Chesney, Zane Guerrero, Natalie Schweizer, Caden Webb, and Tyus Wilson. They are joined in membership by Abby Riffel, Bryson Brownlee, Mallory Beltz, and Alaina Madden. Congratulations to our new inductees on being selected to one of the highest honors available to a current high school student.
SCKMEA Band

Congratulations to the SJHS members of the South-Central Kansas Music Educators Association Junior High Honor Band.
Zoe Harding, Alto Sax
Shay Carmichael, Trumpet
Micah Svaty, French Horn
Lindsey Beltz, French Horn
Carson Gray, Euphonium
Charlie Simpson-Eighmy, Tuba
These six students will perform along with 100 of their peers from around the region next Saturday at Goddard Eisenhower High School at 3:00.
Events through November 2
Tonight

FB @ Southwestern Heights, 7P

Tomorrow

Regional XC @ Prairie Hills MS, 11:20 (Girls) & Noon (Boys)
Sub-State Volleyball, SJSHS, 2P

Monday

Parent/Teacher Conferences, SJSHS, 4-7P

Tuesday

Parent/Teacher Conferences, SHSHS, 4-7P
SJSHS Fall Choir Concert, Auditorium, 7P

Wednesday
Friday

No School
State VB, Dodge City
FB Cross-District Game @ TBD, 7P

Saturday

SCKMEA Band/Choir Auditions, Goddard
SCKMEA JH Band/HS Jazz Band Performance, Goddard
State VB, Dodge City
State XC, Wamego
Upcoming Events
11/9: Band Mattress Fundraiser, Ora Shields, 9A-5P
11/14-16: Oliver!, Auditorium, 7P
11/27: Thanksgiving Vacation Begins
12/2: Classes Resume
12/20: Semester Ends, 12:30
1/6/2020: Classes Resume
Have a fantastic Friday and a wonderful weekend!