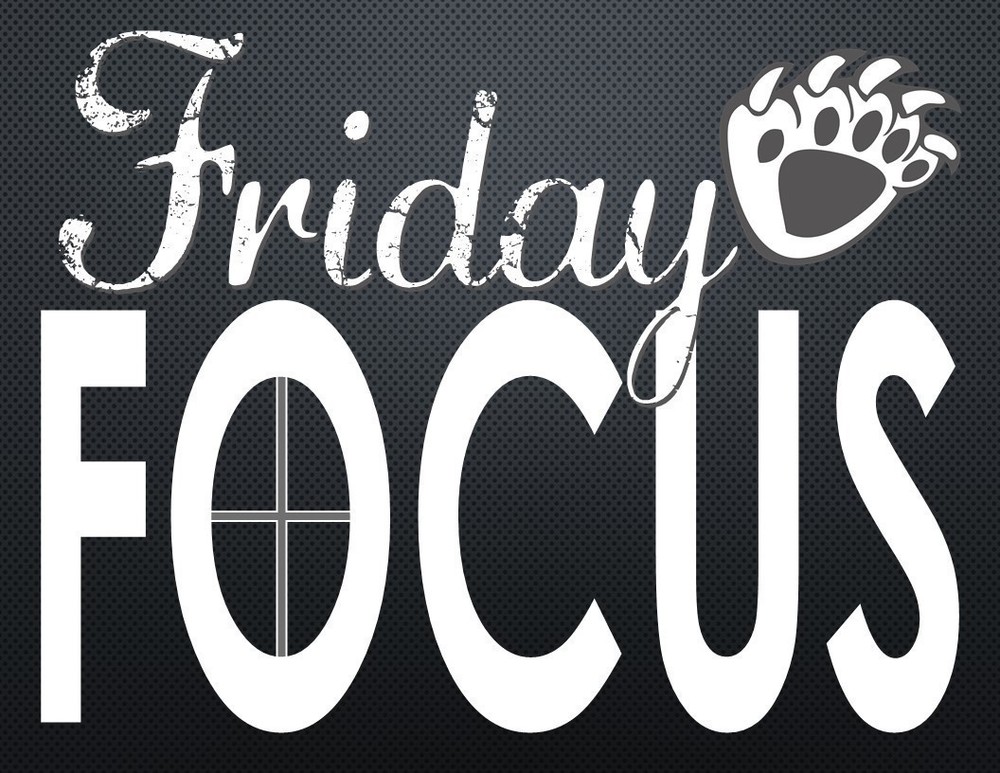 Friday Focus, Nov 8
Phil Bressler
Friday, November 08, 2019
Since we didn't have school last Friday, I decided it would be OK to give you a week off from reading about SJSHS and a week off of writing. But 'tis again Friday, we have school, and here is yet another round of good stuff about our school, and more importantly, our kids.
The Best Things I Saw This Past Week
Since it's been two weeks, I've had the opportunity to see more and thus the reason for today's Best Things being a tad longer than the normal four photos.
For the better part of the semester, we've been enjoying art work from Mr. Derek Schneider's classes in our reception area. With this group, we decided to treat it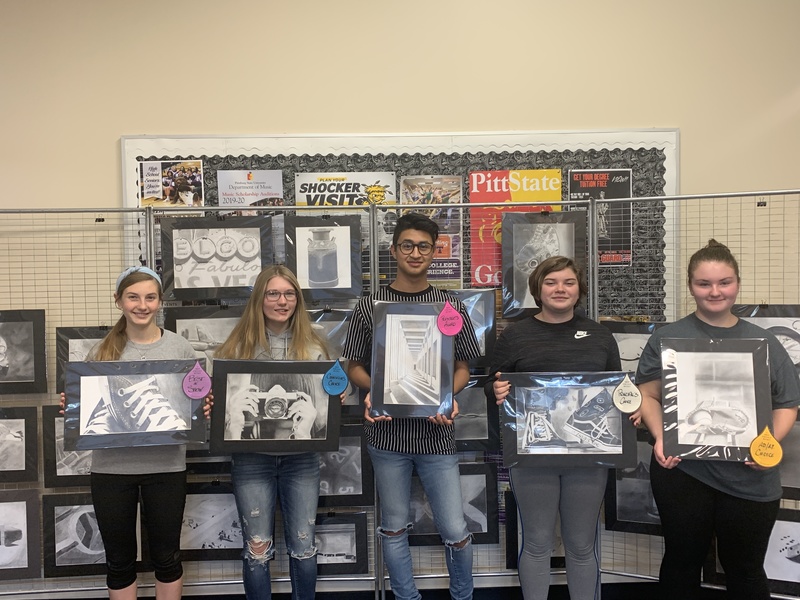 like an art show. Our winners, from the right are Madison Lackey (Fr) honored with the AD/AP Choice Award for her baseball glove and ball; Alyssa Martinez (Fr) and an incredibly realistic set of Vans sneakers earned the Principal's Choice Award;
Junior Silva (Jr) with the President's Award (Student Body President) for his perspective drawing of columns and their parallel wall; Kenya Sult's picture of a picture was deemed worthy of the Counselor's Choice Award; and our Office Staff award for Best of Show for Makayla Sant's pair of Converse sneakers, which are so realistic, especially the detail on the laces, it was hard to tell it wasn't a photograph. Congratulations to all of our students who displayed art as it was thoroughly enjoyed by your peers, your staff, and by guests to our school.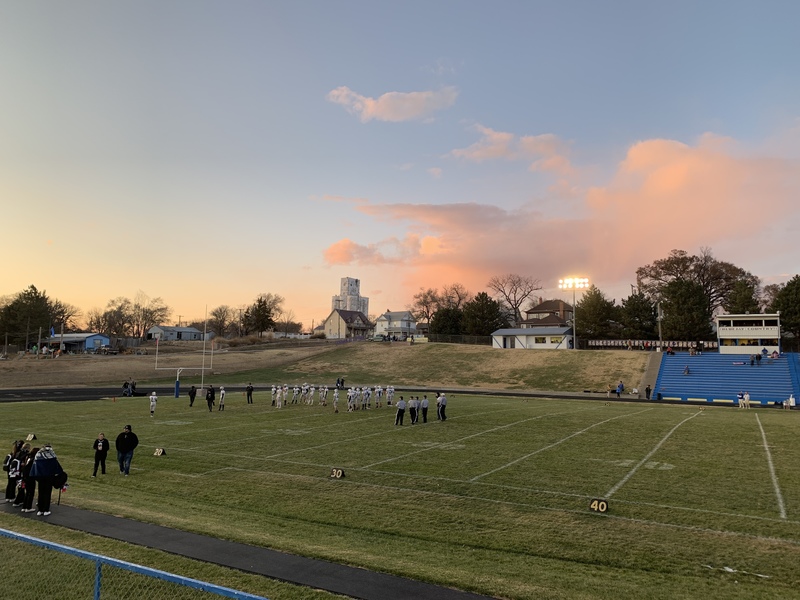 Our Black Bear Football team completed their season this past Friday, dropping their initial bracket game in the 2A State Playoffs to Norton Blue Jays. (The pregame picture could also be a Best Thing, couldn't it?)
The highlights of the season for the boys included wins over Marion, Lyons, Ellinwood, and Southwestern Heights, to finish with a 4-5 record. While a winning record proved elusive, improvement was evident weekly, with tremendously competitive games against Cimarron and Lakin. Thanks to our seven seniors for their contributions to our program.
Last Tuesday, our Junior High and High School Choirs treated concert goers to an exceptional performance of a collection of songs entitled War & Peace, taking the audience through our nation's warring past. The theme for the evening was inspired by a journal account of war from an ancestor of the Kent and Cindy Anthony family and the evening was narrated by Kent Anthony.
In my 20 years of administration, I've been a part of a lot of send-offs for students headed to state tournaments, state music contests, and various national events, each of them filled with peers, staff, parents, and community members supporting our kids as they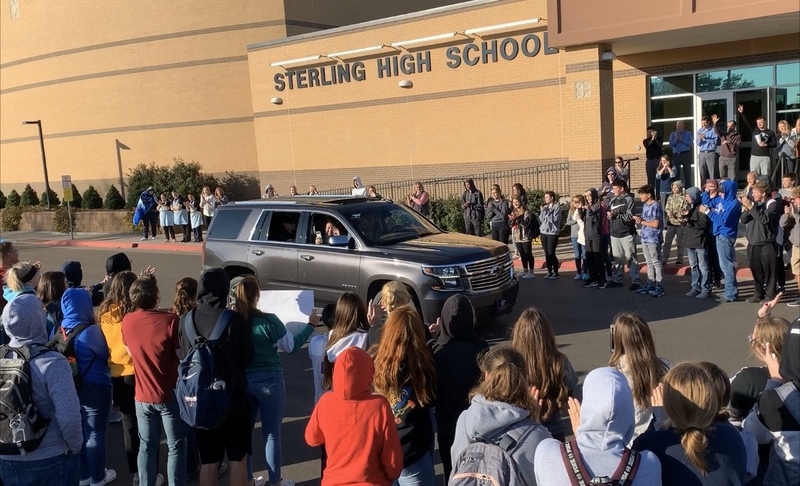 represent our school and community. But last Monday was a unique send-off by our kids, our staff, and community members who wanted to let a young man know he was one of ours, that he was in our thoughts and prayers, that he was loved by a whole community. Today, I'm happy to report that Colton has been to KC, received his new heart valve, and is now back in Sterling resting and recovering, which is, from my perspective, way cooler than any trophy.
Speaking of send-offs, just three days later, we did another state send-off and
rooted for our two State Cross Country qualifiers in last Saturday's 2A State meet in Wamego. While neither Bella Brownlee (Fr) or Carter Crank (So) placed, the achievement of qualifying for the state meet and competing against some of the best runners in the state is an accomplishment worth celebrating. Congrats to both runners, as well as their team who trained with them and their coaches (Pam Simpson and Layne Gilliland).
SCKMEA Honor Band, Orchestra, and Choirs
Congratulations to the following students for their selection as members of their respective District Honor musical groups for the South Central Kansas Music Educators Association.
1A-4A Honor Band

Macy Brownlee (Jr), Contrabass Clarinet
Junior Silva (Jr), Trumpet

HS Orchestra

Peter Vessey (Fr), Clarinet

HS Choir
Treble Choir
These students will perform, along with hundreds of other high school musicians from the area in concert on Saturday, December 7 at Wichita East High School. SJSHS students are directed by Mr. Comley, Mrs. Fair, and Mrs. Anthony.
Basketball is Upon Us
While this coming week is Buffer Week for High School athletics, our Junior HIgh Bear Cubs host their opener on the hardwood, entertaining Lyons in a 4:30 start before bringing Ellsworth to the Ora Shields and South gyms on Thursday in a 4:00 tip.
Are You Smarter Than a Fifth Grader High Schooler?
While we are transitioning between athletic seasons, our Scholars Bowl team kicked off their season on Tuesday in Ellinwood, with our JV squad bringing home first place honors. They competed last night in Lyons in a 20-team meet where the JV made it to the finals bracket.
Oliver!
Mark your calendars for next Thursday, Friday, and Saturday for the SHS Theatre production of Oliver! OUr cast and crew have been working long hours for several weeks to bring you a show worthy of a standing ovation. Curtain is at 7:30 each evening in the SJSHS Auditorium. Tickets will be available the evening of the show at the door.
Events through November 16
Today

Deadline to Register for December ACT

Tomorrow

Band Mattress Fundraiser, Ora Shields, 10A - 5P

Monday

JH Basketball vs. Lyons, Ora Shields/South Gym, 4:30P

USD 376 Board of Education, SJSHS Library, 7P

Tuesday

Iron Man Volleyball, South Gym, 6P

Wednesday

School Dismisses at 12:30P

Thursday

Picture Retakes, 10:30A
Group & Organizational Pictures, 11:30A
JH Winter Sports Pictures, 1P

JH Basketball vs. Ellsworth, Ora Shields/South Gym, 4P

Oliver!, SJSHS Auditorium, 7:30P

Friday

Oliver!, SJSHS Auditorium, 7:30P

Saturday

Oliver!, SJSHS Auditorium, 7:30P
Upcoming Events
11/27: Thanksgiving Vacation Begins
12/2: Classes Resume
12/20: Semester Ends, 12:30
1/6/2020: Classes Resume
Have a fantastic Friday and wonderful weekend, Black Bears!