Friday Focus, Nov 15
Phil Bressler
Friday, November 15, 2019
Happy Friday, Black Bears!
We are thrilled for another Friday and the opportunity to share with you the best things from the past week and a look ahead to the next week and a half ahead of Thanksgiving Break. This is a bit of a shorter segment than most, but it's Buffer Week and, aside from JH Basketball (see below), a little music (see below), and a musical (see next edition), it's a pretty slow week at SJSHS.
Best Things I Saw This Past Week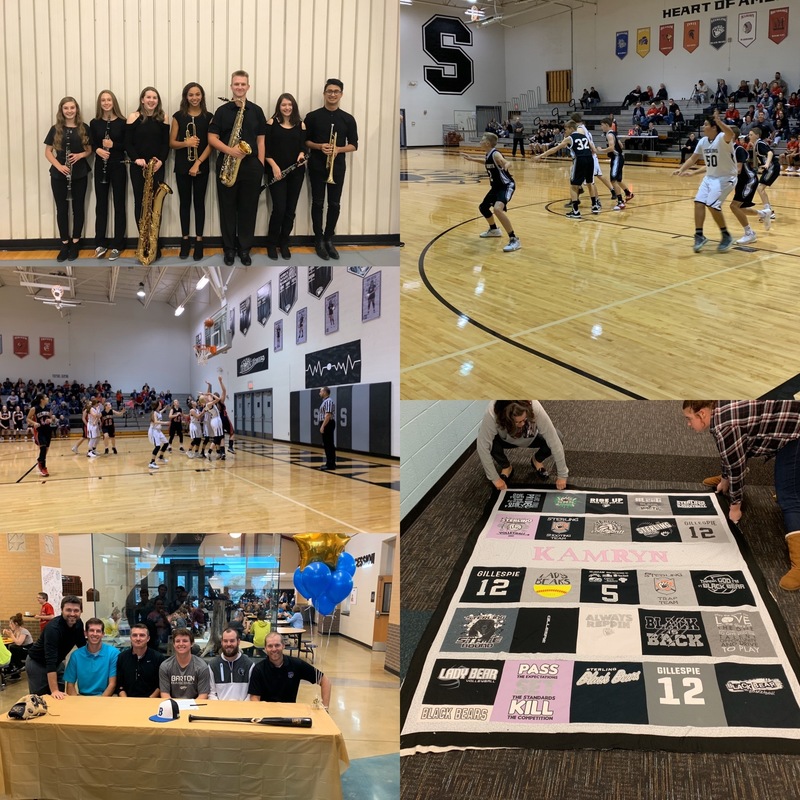 Seven of our Black Bear band members were selected for and performed with the League Honor Band on Wednesday at Berean Academy. Junior High Basketball played at home on Monday and Thursday evenings, taking 5 of 6 from neighboring Lyons and 2 of 6 from Ellsworth. Kamryn Gillespie's T-shirt Quilt is simply amazing and a product of a lot of hard work and the collecting of t-shirts over the years. Pretty cool, really! And finally, this young man, who just happens to be ours and who I don't often single out publicly, signed a letter of intent last week to attend Barton County next fall and become a member of their baseball team. He's shown with his senior football, basketball, and baseball coaches.
SJSHS Surveys
Over the next few weeks, you can anticipate receiving a survey. This survey is our attempt to get your thoughts about how we are doing as a school and ideas about what we can do to get better. We will be surveying students, staff, and parents; surveys will arrive via email. If you don't happen to receive a survey by the 25th of November, please send your name and email address to bresslerp@usd376.com.
This round of surveys will serve as an important initial set of data for our school accreditation process. After this initial round, you can expect an annual survey each April. Thank you in advance for helping us to provide the best possible education for the students of Sterling Junior/Senior High School.
Events through November 26
Today

Oliver!, SJSHS Theatre, 7:30P Curtain

Tomorrow

Oliver!, SJSHS Theatre, 7:30P Curtain

Monday

Big Buddy, SJSHS Commons, 6:30P

Tuesday

JV Scholars Bowl, Berean Academy, 4P

Wednesday

FBLA, Mrs. Prather's Room, 7A

Thursday

SJSHS Site Council, SJSHS Conference Room, Noon
Varsity Scholars Bowl, Larned, 4P

Monday, Nov 25

Jazz Night, SJSHS Theatre, 7P
Upcoming Events
11/27: Thanksgiving Vacation Begins
12/2: Classes Resume
12/20: Semester Ends, 12:30
1/6/2020: Classes Resume
The next Friday Focus will be a special Thanksgiving Edition on Friday, Nov 29. Have a weekend that's more than fantastic! Remember, only 22 more days of school ahead of Christmas break.