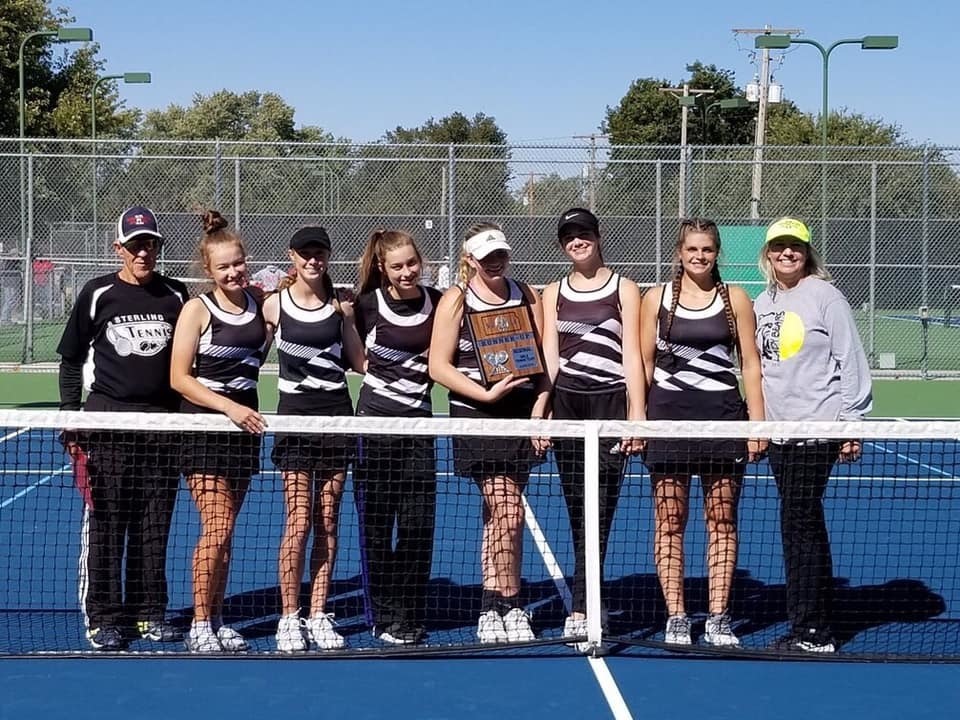 Tennis Qualifies Five for State, Takes Second at Regionals
Phil Bressler
Monday, October 14, 2019
Sterling Tennis had a tremendous weekend in Conway Springs at the 1-2-3A Regional Tennis Meet, bringing home Runner-Up honors as a team. The Black Bears were led by Kinzie Comley (Sr) and Aubrey Anderson (Jr), as the duo finished second in Doubles, qualifying for the State Meet this coming weekend in Prairie Village. Joining them are Natalie Schweizer (Jr) and Riley Richter (So), who finished fourth in Doubles, and Karissa Wilson (Fr), who placed sixth in Singles. Kate Rowland (Fr) won 2 matches, defeating the #6 seed along the way, but fell one game shy of qualifying.
Pictured from L-R: Coach Curtis Thompson, Karissa Wilson, Riley Richter, Kate Rowland, Kinzie Comley, Aubrey Anderson, Natalie Schweizer, and Asst. Coach Sherla Proffitt.
Congratulations Ladies and Coaches. Do well at the State Meet!