Ten more days until summer vacation calls it good (the weather may not join in, but we're back to school). And 10 is the number of I-ratings earned by SHS students at the State Speech & Drama Festival last May. #WeAreSterling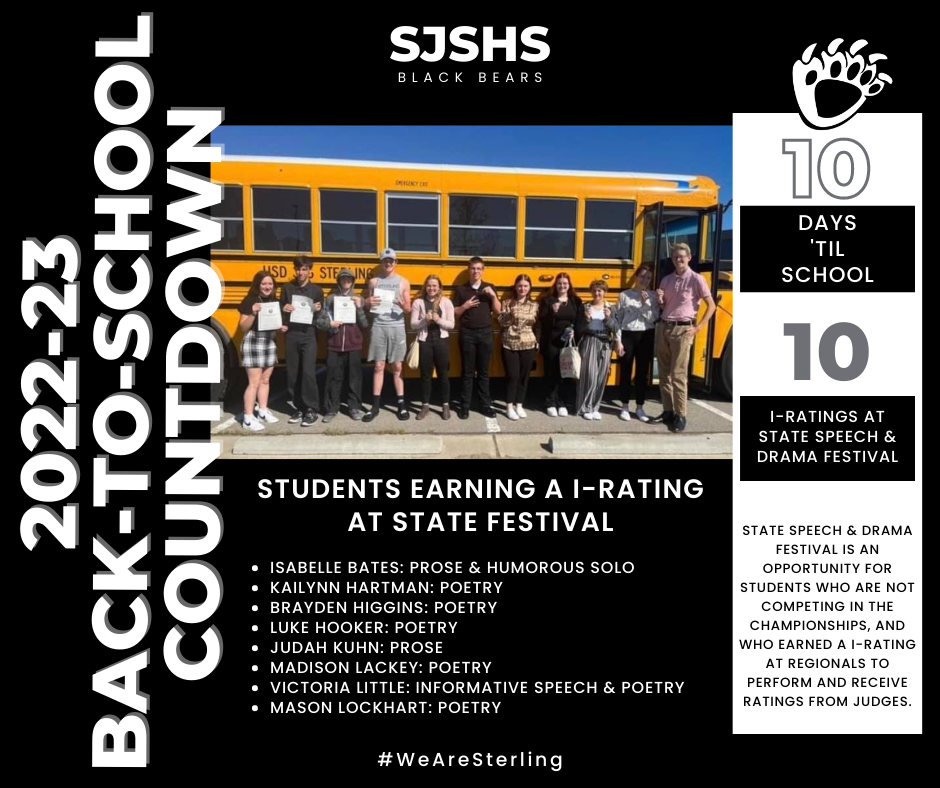 SHS Student Council giving up part of the end of their summer to prep for the year ahead. #WeAreSterling


Eleven gold medals claimed by our Track & Field athletes at this past spring's HOA League Meets for Junior High and High School (2 HS and 9 JH titles). Also, 11 days until school is back up and running at full speed again. #WeAreSterling

Twelve days until "full go" at SJSHS. And 12 is the number of hallways that connect all of the rooms of our thrice expanded school. However, this total doesn't include the library, through which multiple students pass each day. #WeAreSterling

Thirteen more sunrises before we're back in the educational saddle. And 13 is the number of Regional, District, and Sub-State Championships claimed by Black Bears in 2021-22. #WeAreSterling

Fourteen students earned awards at the HOA League Art Festival last spring on 19 entries, with five of those earning first-place honors. 14 is also the number of days until these students get back into their art classes for the fall semester. #WeAreSterling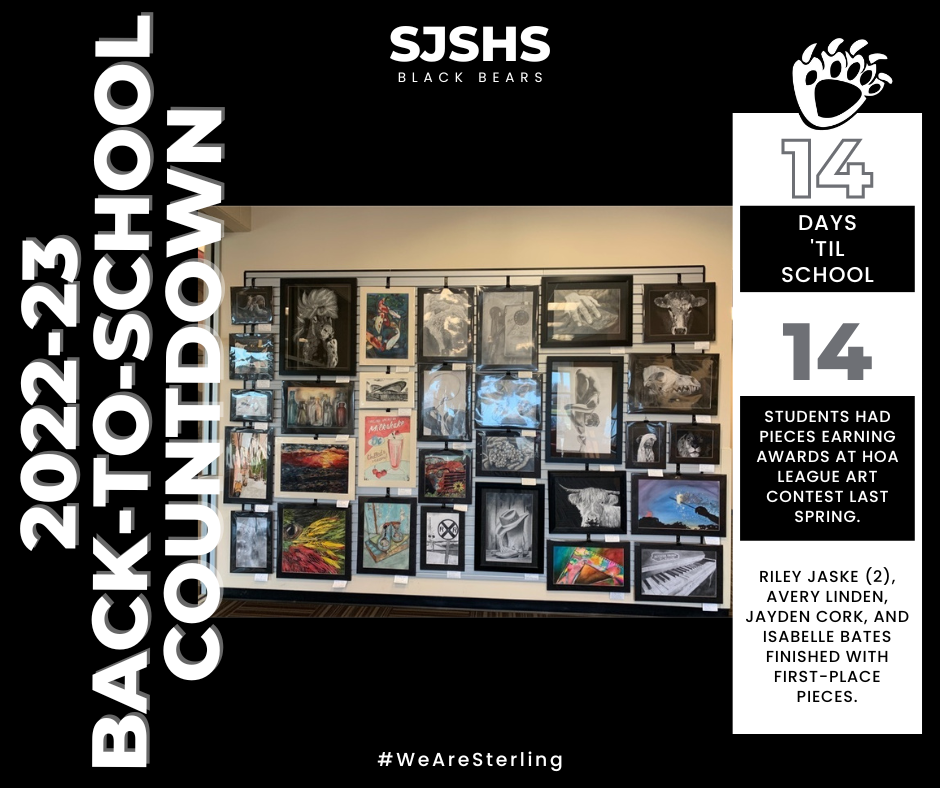 Online enrollment for USD 376 is back up and running! If you have already filled out forms, please log back in to check for other forms that may need to be filled out. For questions with online enrollment, please email Wes art
laudermilkw@usd376.com
. Incoming preschoolers, kindergarteners and all new students to the district will need to enroll in person. The junior high and high school enrollment will be Tuesday the 9th from 4-6 pm at the high school offices and the grade school will be on Wednesday the 10th from 2-6 pm at the grade school offices. Thank you for your patience over the past few days!

Fifteen days of hot, sticky summer until students can enjoy air-conditioned comfort in our classrooms for 7 hours & 25 minutes daily. 15 is also the number of division-I ratings our vocalists & instrumentalists earned on solos at State Music Festival last spring. #WeAreSterling

Next Thursday, we are pleased to host Rob Miller with Proactive Coaching for three sessions: one for coaches, one for students (4:00) and one for parents (6:00). All sessions will be held in the OSAC. Fall Sports Parent Meeting is at 5:30. #WeAreSterling

Sixteen days until school begins. 16 also represents the number of Black Bear Events won at the State Track & Field Meet this century, from McCoy's triple-gold weekend in 2000 to Tyus Wilson's 2A State Meet record in 2021. #WeAreSterling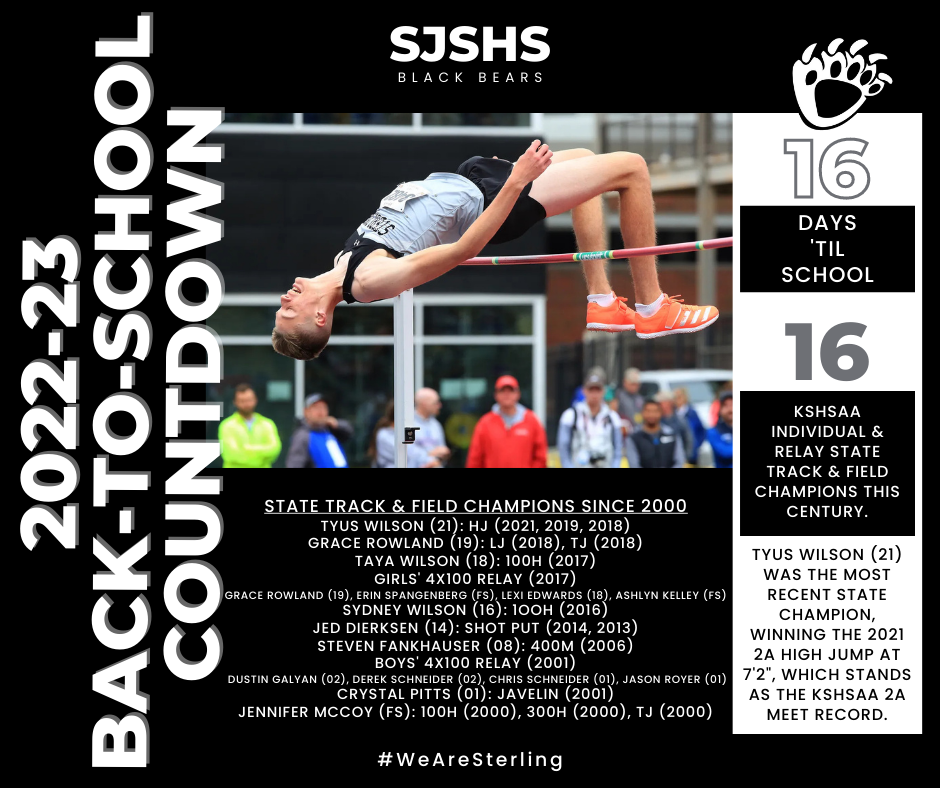 Seventeen days until we're back in the mix fully, which matches the number of doors in our office. #WeAreSterling

We are having some difficulties with the enrollment system. The forms to fill out are not showing up. Please be patient with us as we try to fix this in the next few days. We will send out another message when things are fixed.

Eighteen tables, on average, is what you'll find in our commons on a given day (your experience may differ based on activity and time of day). 18 is also the number of days until we're back in full-swing at SJSHS. #WeAreSterling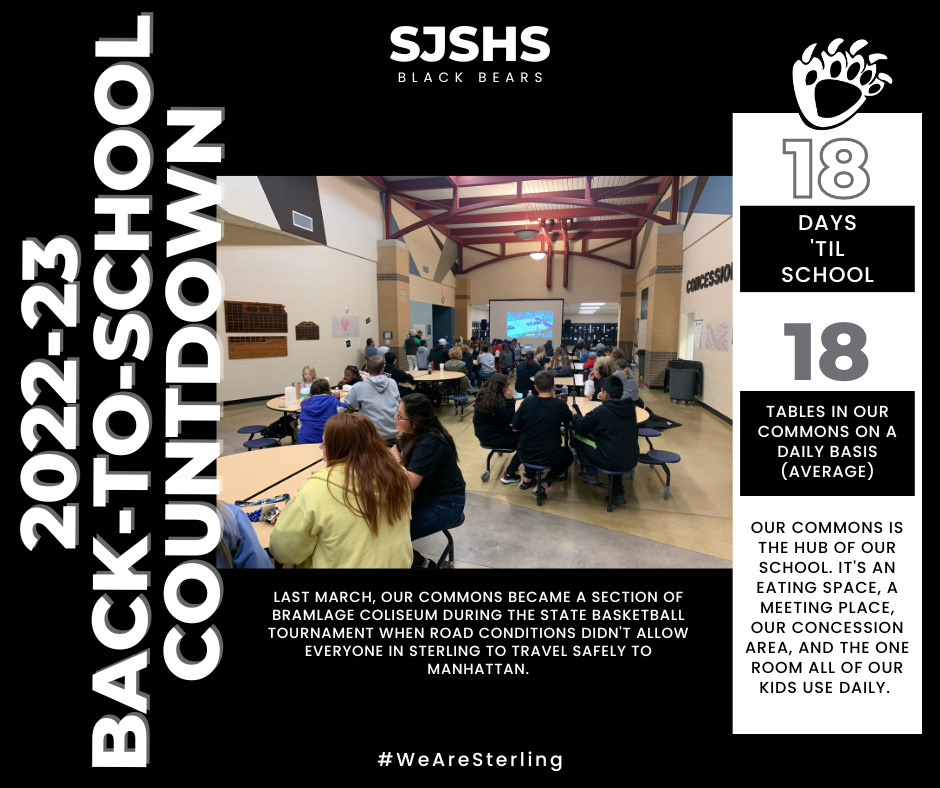 Nineteen days until the buses are full of students and parking lots are full of cars. And 19 is the number of class days in but two months this year: November and February. Some days, finding a number that fits is hard, nonetheless, here's our 22-23 calendar. #WeAreSterling

Twenty days until we kick off the 2022-23 school year with all six grades. 20 is also our certified teaching staff FTE. Great teachers across the board with 1 to 41 years of classroom experience. #WeAreSterling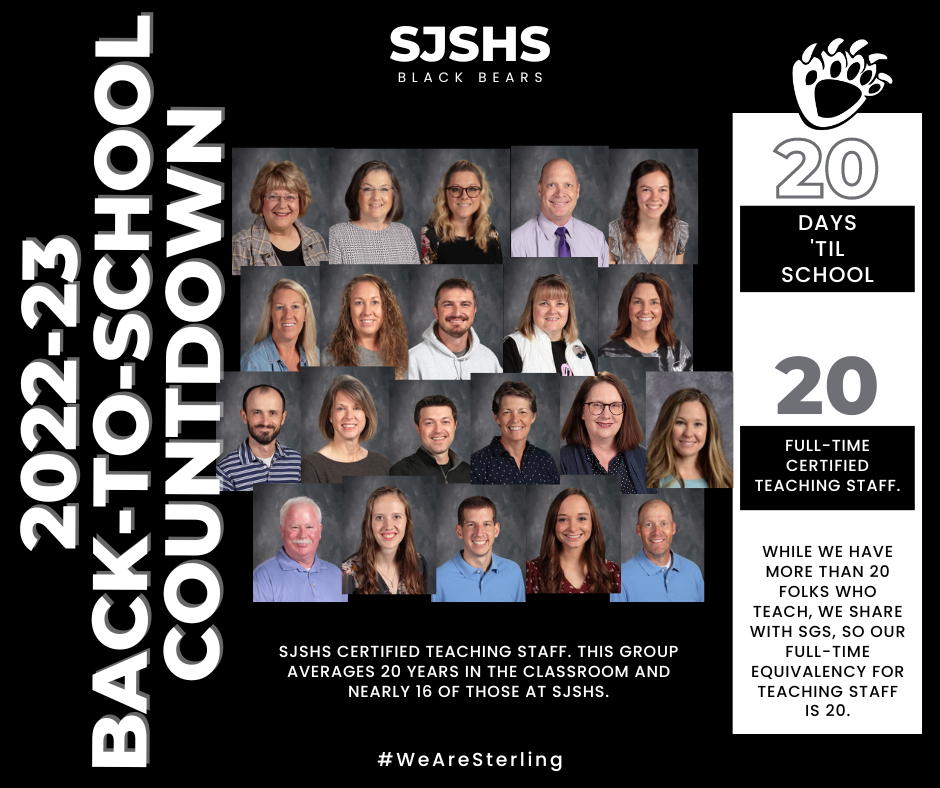 Junior High students will take 21 courses during two years at SJSHS. Core classes are scheduled in the morning, electives right after lunch, then PE/Strength Training and a Wheel of exploratory courses. 21 is also the number of days until classes resume next month. #WeAreSterling

Twenty-two more days until the bell system is up and running again, moving over 200 students to their next class period. 22 is also the number of Division I-Ratings earned by SHS Musicians last spring at the KSHSAA Regional Music Festival. #WeAreSterling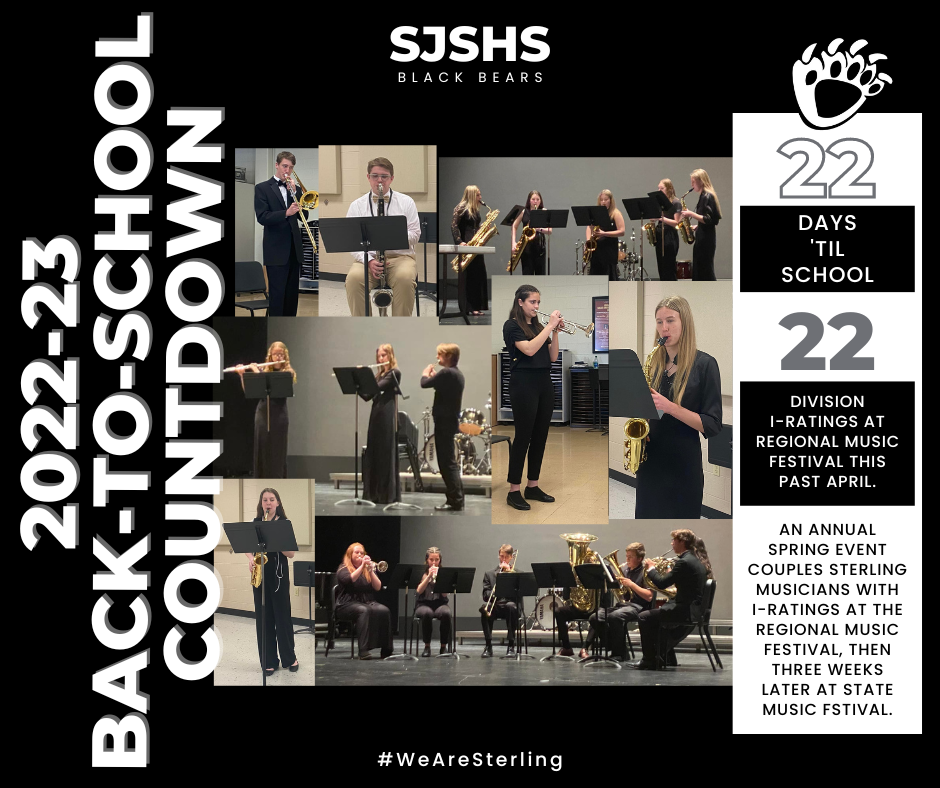 The youngsters in this photo took third place in the 2019 State Debate Tournament, which marked the 23rd such trophy garnered by SHS students in KSHSAA State contests. Twenty-three is also the number of days until we're back in school at full speed. #WeAreSterling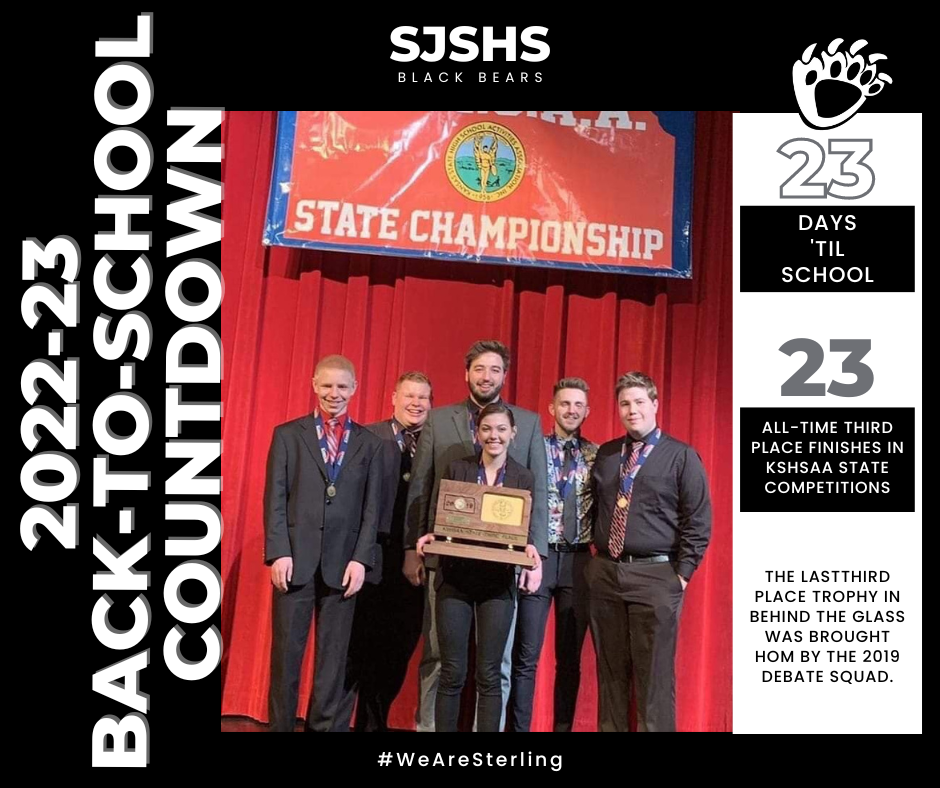 Twenty-four more days. And 24 minutes past 8:00 is when 1st period takes up daily. That 24 minutes is set aside for a period we call Success, time to ready one's self for the day, make sure you have what you need, have a quick meeting, or get a question answered. #WeAreSterling